A Moment of Self Reflection
Round 3 in the 2022 Whilton Mill karting championship was underway. Coming into this weekend I had invested in a power upgrade to help me with my mid-end grunt. My goals were to achieve a top 15 with what I believe is an achievable result for my current capabilities as a racing driver. Over this weekend however especially Sunday I had a moment of reflection on what I can do to improve as a driver rather than what I can do to improve the kart.
Saturday practice was very good for me. After borrowing some used tyres from Nick and Millie Hart, I set my fastest lap ever. Finally, after a year and a half, I got into the 44 second lap times. Funnily enough all it took was a bit of extra power and some tyres from a rival. For some this is common times but for me this was a massive confidence boost for the rest of the weekend knowing I've got what it takes to hold my own. Each practice was more just getting out on track and learning about how the track and kart felt, practice, practice, practice. The first heat in all honesty I was acting desperate. Straight off the bat I got a great start and got into 4th place. From lap 2 onwards I instantly went defensive because for some reason I thought I could hold off another 16 drivers for another 7 minutes. Because of this some drivers got very frustrated and pushed me off the track, which looking back was wrong, but I don't blame them. I guess I was the victim of my own demise!
I understand what I did was drastic and genuinely stupid, with such a disadvantage in power I wasn't in the right mindset and got careless.

Archie Elliott

Senior Rotax #54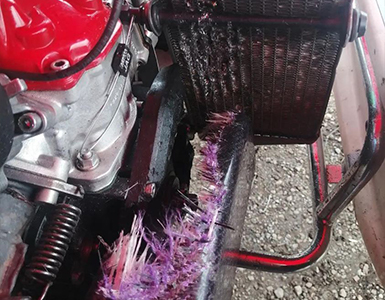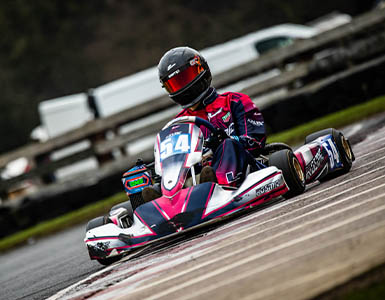 After a long sleep on Saturday evening I had a reflection on my driving. Heat 2 started the senior rotax brawl once again. Right at the start there was a big crunch with multiple drivers involved and being squashed gave me an instant nose cone penalty. From this point onwards it was a pretty good drive, excluding the nose cone, starting from 21st and finishing 16th on track was a respectable drive. But with time penalties due I ended up back at 21st on track. Heat 3, I started 13th on the grid. A rough start putting me down to 16th, but I had decent pace in this race staying with a pack and catching the guys in front. Though it was short lived. Coming out of Inkermans I walloped the curb, and it snapped my chain, wrapped around the front sprocket which ended up tearing up my chain guard and ripping a hole in my radiator causing it to leak everywhere putting me out of the race immediately. So, as it stands, I have a 17th place, a 21st place and a DNF.
Just before the final I had a chat with some people in the paddock mainly about what could be holding me back from getting faster. For the longest time I thought my driving style was perfectly fine, a relaxed stance and holding the steering wheel lower than most to reduce the amount of effort and steering input put in. I was also pulling the steering wheel through corners as once again it felt easier to do. I talked to my mechanic Jason Bond and friend Nick Hart. Both said the same thing, when it comes to my driving style, I need to start pushing the steering wheel through corners which in doing so will push me further back in the seat. Entering the final, I took their advice starting from 24th on the grid. The race started and straight away got into the top 20 from then on it was a fairly uneventful race but perfect for trying this new technique it was perfect, the first few minutes, it was rough changing my driving style. It's like trying to walk with both your right arm and leg swinging forward at the same time. Even though I wasn't used to the technique I immediately saw an improvement. Two drivers that were a couple of seconds in front that I'd never usually keep up with were bit by bit getting closer to my front bumper. The chequered flag waved, but even though I didn't get passed them I finished 14th with a big smile on my face.
My goal was to finish top 15 in round 3 and thanks to the advice I was given, that was possible, even if it was unpolished. This really made me reflect on myself and how I can improve as a driver instead of always thinking its all down to the power. Yes it is a factor but not as much as I'd previously thought. In a way, it puts my mind at ease. Knowing that my goals of becoming the fastest racing driver are more possible than I originally thought gives me more confidence and motivation than ever before and I look forward to the rest of what this wild championship throws at us. Big thanks to my mechanic Jason Bond who was able to give me a great setup and always super-fast with the repairs from heat 3 and as always my dad without which none of this could happen.