Lad and Dad
This weekend saw the opening round of the Junior Kart Championship at Fulbeck Kart Track as a lad and dad team again.
Heat 1
We started in P4 for this heat, grid had been picked randomly not on qualifying times, Lucas made a great start and by the end of the first lap he crossed the line in 1st place, Lucas was now driving exceptionally well and kept banging in fast lap after fast lap, he crossed the Line 14 seconds ahead of P2 and with fastest lap by some margin, unfortunately he received a nose cone and break of formation at the start so was given a 10 second penalty, but this didn't effect the outcome.
A great weekend and a great start to the Junior Kart Championship and also a great debut on a new chassis...

Lucas Blantford

#59 - Mini Max - Junior Kart Championship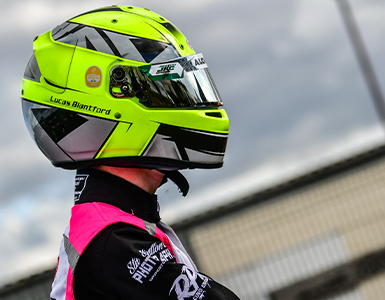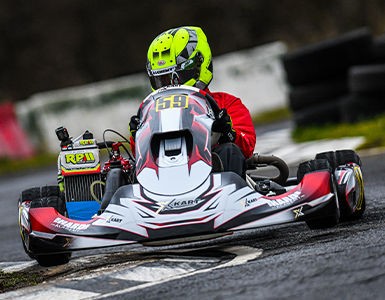 Heat 2
Started P10 for this heat and again by the end of lap 2 was in the lead and checked out, we tried a different tyre pressure for this one which didn't really work as the tyres didn't kick in till the end of the session where again Lucas put in the fastest lap of the race by 7 tenths, but crossing the line in P1.
Heat 3
Started P7 for this heat and as the previous 2 heats by the end of lap 1 was crossing the line in P1 with some great quick overtakes and like before got his head down and checked out from the rest of the field. Commentary was all about how Lucas was in a different class to the rest of the drivers today and after a composed drive crossed the line in P1 and again with the fastest lap by 8 tenths this time.
Final
Starting P1 for the final and after great starts all day this was his worst but after losing a place at the first corner made a brave over take before the first chicane and there was no looking back, pulling away again from the field and commentary again was that the other drivers had really decided this race was all about the final podium positions. Lucas was a little disappointed he didn't get the fastest lap, but missed out by 8 hundredths.
A great weekend and a great start to the Junior Kart Championship and also a great debut on a new chassis which gave X Kart their 1st top step win in the mini max class. Special thanks go to RPM Racing Engines UK & Team Hard Racing Academy and X Kart Chassis