MY ROAD TO COMMENTARY
Hello, I'm Anthony Jordan. Commentator for Motorsport UK Wera Tools British Kart Championships.
Below is my story of how, when and a little bit of why I became a motorsports commentator. I've been around motorsport from a very young age and so have my family, with the rally legend himself Colin McRae being at my parents' wedding. Not that I was old enough to know! But motorsport is where I saw my life heading.
29th January 2017 was the first time I ever picked up a microphone and talked about a live race. It wasn't even a real race! It was a bunch on friends racing at a sim racing venue in Milton Keynes under the group name NDA i.e NO D***s ALLOWED. Basically, if you raced like a d***, you didn't come back. Harsh but fair, I think.
Anyway, through lack of a better word, I was terrible! The task was thrown at me last second and to be completely honest, I didn't enjoy it! My first, and at the time I thought my last attempt at commentary can be found online. Am I going to tell you where you can find it? Hell no!!!
For many around the world, racing is just driving in circles, and they're not wrong! But I'm taking the responsibly of trying to change that!

Anthony Jordan

Commentator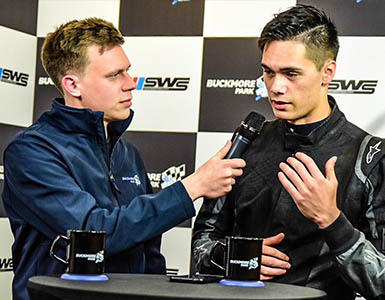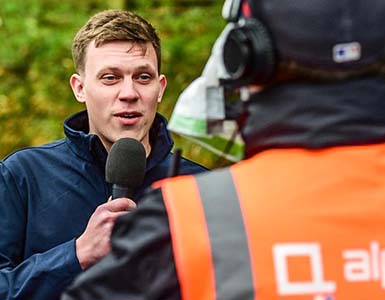 A whole year goes by without me commentating again, until a good friend of mine who works in the media department for a local karting track where I worked for many years, messages me out of the blue! No warning and says, "You've commentated before right?".
To this day I don't know why I replied "Yes", but I did, and on the 21st May 2018 I found myself at GYG in north Wales commentating on rental Rotax karts! Let's say my co-commentator wasn't impressed with me as it was my second time ever commentating! But he helped me out massively, and this time around I really enjoyed myself and wanted more! And I got more, I came back with the same championship in July at Ellough Park and Clay Pigeon in September, in 2018 I became hooked.
2019 arrives and its going to be a busy year! I was picked up by the team at Alpha Live to commentate a full season for The British Minibike Championship (BMB). During that season I picked up lots of new skills and really grew as a commentator. On top of that I found myself commentating on the first ever 24hr kart race Buckmore Park which was incredible, I met and became friends with a lot of amazing people!
With so many new events and weekends being taken for commentary. In 2019 I left my job and became a self-employed commentator. I think you can see where this is going!
2020! Bugger. Quoting Def Leppard "the walls came tumbling down" for the first half of the year at least. But a silver lining appeared in the sky, I got word of a gap with Motorsport UK for the British Kart Championships. I leaped at the opportunity for the roll, on the phone constantly through lock down sending emails trying to find out information! Until "ping" my phone goes off and I'm heading to Rowrah for Round One, this is where I meet the Welshman himself Henry Beaudette! And from that message, 2020 turned out to be not so bad in the end. But I'm aware for many others in the UK and around the world at that time, it was not.
I stayed for the rest of the season. I had done it. But not without the amazing support from Alpha Live.
With the future looking brighter 2021 begins and I'm full time with Alpha Live, commentating for the British Kart Championships, Formula 3 Cup, Kartmasters, IAME 0 Plate, Whilton Mill Kart Club, 750 Motor Club to name a few.
I've met some incredible people over these past couple of years and a lot of new friends! I think I've found my place in motorsport. The 2022 season starts soon, and so much to look forward too.