A Late Rookie Amongst Titans
I'm fairly new to this owner driver business, first getting into a Senior Rotax in 2019 to 3 years later competing at one of if not the most competitive club circuit championships in the country. Some very big names have entered this year which to all those competing will only be more exciting.
So Round 1 came on the 22nd and 23rd of a cloudy January. Practice 1, 2, and 3 were tragically similar as mechanical issues had a common trend, consistent cutting out of the engine had the team at a crossroads of what the issue was. After 3rd practice finished just a couple of hours before the first heat of Saturday, we found some debris inside of the carburettor which we were convinced was the problem. With too big a risk of that being the answer, the team kindly borrowed another carburettor from a fellow team hoping this would help me at least finish the first heat. "Thanks to Kieran Baloo for helping the team out with some of the struggles that came our way".
Thanks to Kieran Baloo for helping the team out with some of the struggles that came our way

Archie Elliott

Senior Rotax #54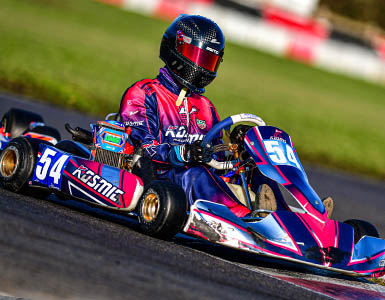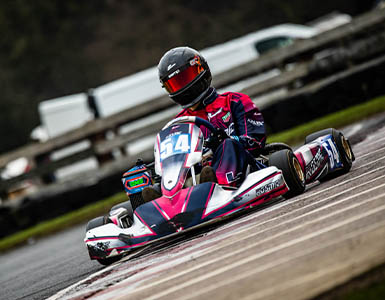 The first heat on Saturday took place. Starting 13th of a whopping 34 karts, fortunately it went as planned, had a very calm race in my own little bubble on track with respectable pace and finishing 13th but with a bump up to another driver taking a drop-down penalty. With a carburettor that was put on at the last second the team was very happy with that result. Heat 2 starting off the Sunday morning was a 28th place start with a catastrophic start, with a kart spinning coming up out of Inkermans left no choice but to use the grass to avoid a collision which left me in last place after the first lap. With an aggressive head on my shoulders, I flew through the field by finishing the race in a respectable 18th place. Heat 3 was anything but boring, starting 5th with a brilliant getaway and overtaking for 4th on a well-known Sam Hawthorne, it was short lived with him passing me back dropping to 8th after a very rough lap, but with a bit of luck a collision happened in my favour and gained back a place to finish a very happy 7th place.
For the final I managed to start 11th place from the average results from the heats which I was quite pleased with as I felt very confident with my pace. Yet again I had a great start jumping up to 6th, but it was short lived before a driver from behind made contact and that lap alone I dropped 15 places. From then on it was a moderate race with average pace and finishing 19th with mild frustration afterwards.
Looking back on the weekend, results were acceptable but could've been better. But more importantly I'm happy about how my pace was. I had many battles with some of the best and looking to future rounds, a few podiums and potential wins could definitely be a possibility says the team, so onward and upward in the Whilton Mill Karting championship.
Huge thanks to Jason Bond, our mechanic, without whom we wouldn't achieve so much and for my parents for their continued support