Chloe Jones - My Story
Hey there, my name is Chloe Jones, and I am female motorbike racer.
My love for bikes came from me going with my dad when he was helping his friend at club racing. I was 10 years old at the time. I loved everything about it, the paddock, the people and of course the bikes. The noise they made, the smell and the speed. Everything about it was amazing.
I used to ask my dad if I could go with them. There was one weekend in particular, I remember, my dad's friends were going to play on little pit bikes at our local Whilton Mill kart circuit. I remember my dad's friend falling off but getting straight back on. It seemed to all be part of the fun. There were all sorts on Mini Bikes there, Pit bikes, Mini Moto's and others which at the time I didn't know what they were.
I remember seeing this one bike a blue Mini Moto, that's when I knew I wanted to ride. I begged my mum and dad to buy me one. I think they thought I wouldn't really like it, or it was just a phase.
I started racing in 2015 when I was 11 years old. I started racing in the British Mini Bike Championship in the Novice class where I rode a Series 1 Polini

Chloe Jones

Motorbike Rider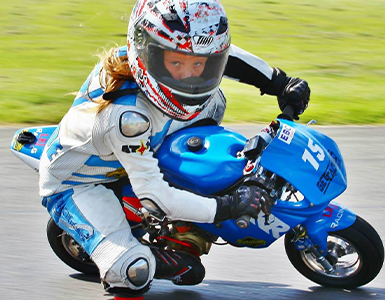 So, they bought me a really cheap £50 Mini Moto. That was probably their biggest mistake because I loved it. I fell off so many times when I started but I just kept getting back on and learning so much as the months went on.
Once I was up to a decent'ish speed they actually bought me that first blue Mini Moto I fell in love with, and I decided it was time to race.
I started racing in 2015 when I was 11 years old. I started racing in the British Mini Bike Championship in the Novice class where I rode a Series 1 Polini. (Tiny little bike) I came 1st overall in the Novice class that year collecting many trophies on the way and learning so much about race craft.
During 2016 my 2nd year in racing I moved into the Pro mini moto class on an IAME engine sponsored by LRJ Racing. I had a great but very challenging year competing against other kids that had been racing for a few more years than myself but again I kept going and kept improving and bought home many more trophies and finished the year in 2nd place overall.
Also, whilst racing in 2016 I got a IMR Mini GP 140 bike. This was my first geared bike and after only having 2 practice days on it I decided I was ready to race it. This was against a grid full of boys who had mainly been racing these bikes for a couple of years. I had already missed 3 rounds of this season due to not even having the bike and was told to just go out and have some fun and see what I could do. I went out excited and absolutely loved the bike and bought home 2 out of 2 wins on my first race weekend.
I then went onto win every race that season until the final race of the year when I was leading the race and had a fuel problem with the bike. Even after missing the first 3 rounds of this season, I finished in 3rd place of the championship. In 2017 I did a full season on my IMR Mini GP 140 sponsored by M.R.S Racing and won most of my races improving every time I was out on the bike. I unfortunately had to miss 1 round due to a family holiday but I still managed to win the championship with 1 round to spare.
In 2018 I decided to race in the British Mini Bike Championship in the adult open class on my M.R.S Racing Honda CRF150. I felt I needed more of a challenge this year and needed faster riders to compete against to bring me on more. At the end of the year M.R.S Racing purchased a Yamaha R3 for me to race.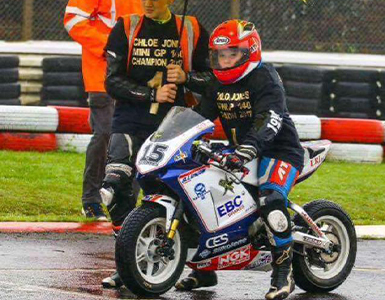 I did 3 track days then decided to jump straight into the British championship at Silverstone as a wildcard. I tried to take everything in my stride and qualified P12 only 2 seconds of pole position. I was racing against riders who had done all year on these bikes and showed that I hopefully had what it takes.
The team then decided to do the last round at Brands Hatch. A very difficult track to learn but yet again, I apparently amazed them all and in the last race finished P8. Since then, I did a season on the bike with mixed results Then I jumped onboard the RICH ENERGY OMG RACING Yamaha R3 as a support act in the Bennett's British Superbike Championship! 2021 has been a very up and down season and it's shown my strengths and weaknesses. Having a best result of p6 at Truxton and having a couple some DNF from getting taken out 4/9 races.
This led to my team of RICH ENERGY OMG RACING pulling me out of the last 3 rounds for me Mentally and physically. It really felt like being a girl racer I had a target on my back all year which didn't help but I'm ready to make a change in 2022! We've decided to focus on the Yamaha 600 ready for 2022 season. I'm ready to come back stronger and better than ever moving up to the junior superstock 600 class onboard the Rich Energy OMG Yamaha R6 bike.
Rich Energy OMG are amazing sponsors and are also sponsors on British Mini Bikes which is where I started. It's great that they support young riders that are coming through.
I spend lots of my spare time out on the smaller bikes helping all the younger kids learn the sport. I especially like helping the females as we need more to join the sport it is slowly getting better for females and its great seeing more and more get involved. Even on track days now we are seeing more females get involved.
I have a lovely following on social medias Instagram, Facebook and Twitter account where everyone gives me great support and encouragement.
I really want to put everything into this year, I am putting in every penny I earn from working and my parents put in so much as well. If you're into bike racing you know how expensive it is and how much practice it takes to be up there at the top. Finally, I just want to say a massive thankyou to all my sponsors and supporter that have got me this far and are continuing to sponsor me!
OMG RACING, RICH ENERGY, PCR PERFORMANCE, CATERIN INVESTMENTS LTD RACING, BRANDS HATCH REVELLERS, ESKUTA, KNOX, JO HUMPHRIES, U ZED HEADZ, GB RACING PROTECTION, LRJ RACING, CUSTOM COLORS, NEVIS MARKETING LTD, TRACK DEMONS, YAMAHA RACING, 151'S, BLACK WIDOW EXHAUSTS