Leo Brown - Whilton Mill Kart Club - Round 1
On the 22nd and 23rd of January 2022 the JDR team and I returned to Whilton Mill for Round 1 of the 2022 championship. Last year I finished 5th in the championship in the highly competitive Junior X30 category, the category I will be competing in again this year. After some great pace last year we were very unlucky with results, however we are looking to change that this season and aim for that top spot in the championship. This season I will be racing with the number #33 which is the number I first used when I started karting all the way back in 2018 in Honda Cadet, hopefully that will give us the extra luck we need to win the championship this season! As many of the other drivers competing I was raring to get back out on track for a new season and here's how I got on…
We had 3 practice sessions on Saturday where I would be adapting to the brand new Komet Red tyres for the new season. For session 1 I had to run in one of my engines due to a rebuild in the week so essentially our first session, we wouldn't be able to set any competitive lap times. Session 2 and 3 for me was essential to get the most out of the kart and see how much I could push it in the freezing cold conditions and get as much data as possible to compare with my teammates #73 Cian Geraghty and #29 Morgan Hill. After practice 3 was over we had found some respectable pace being around top 5 wasn't awful for our first time back. I knew that I could push for more though and I had one race at the end of Saturday to prove that.
'I have watched Leo from indoor karting all the way to where he is now. The level of progress has been outstanding. This is mainly due to his commitment towards his racing and his ability to take on feedback and apply it. In 2021 his speed was brilliant but got caught up in a lot of incidents. He worked on being able to manage the whole race weekend better and it was a pleasure to watch him cross the line first at the end of 2021. In 2022 as a more confident and more rounded driver, I am excited to watch him gain some brilliant results. He has been a brilliant ambassador for the MS kart chassis and JDR team.

Jack Dex

JDR Team Owner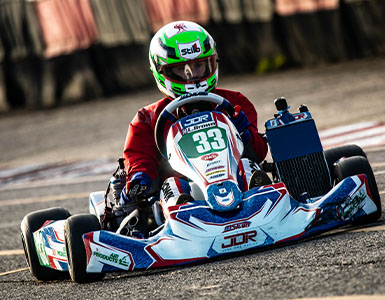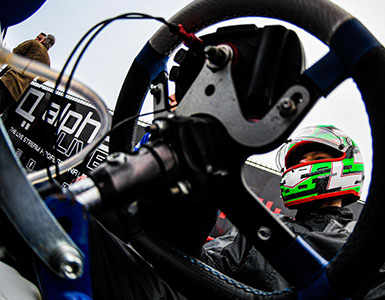 As I lined up on the grid starting P2 for heat 1 I knew I had a very strong chance to win with some of the other fast drivers starting near the back, unfortunately I took the lead on lap 1 before getting wiped out from behind giving me a nose cone penalty and rejoining down in almost last position. By the time the race had progressed and a 5 second time penalty made us finish in P17. Not the first race of Whilton Mill 2022 I was hoping for.
After reflecting on the day before, I woke up on Sunday determined to give it my all and claw back as many championship points as possible. After a successful 3 lap practice ending up in P3 I was starting P18 for heat 2. After many close fights I crossed the line P6 but yet again a nose cone penalty dropped me back to P11, which was not ideal in the slightest. I had one last heat to make up as much ground as possible and this time I had to start all the way down in P31. My aim for this race was to have no regrets, take every opportunity that came to me. By the time the 7 minute heat had ended I had made up a very respectable 20 places finishing in P11 and also without a nose cone penalty. The heats didn't go to plan in general but you have to keep working at it and make the most out of a bad situation.
By the time the final came around I was starting in P10. We knew this was our opportunity to really showcase our speed and fight right at the front for really the first time that weekend. Unfortunately, I was held up on the opening lap with an incident in front of me allowing the pack to get away. My plan was to work with #188 Alfie Garford to try and catch the pack back up. Eventually I figured out the gap was too large and made my move for P7, where I would finish the race. With the new Komet Red tyres, the pack spreads out more due to the tyre taking longer to heat up so realistically you need an incident free weekend to really challenge for the win, especially in the cold conditions. Overall Whilton Mill Round 1 was a huge learning curve and we will definitely be back stronger for Round 2 and show what we really are made of.