FastR Whilton Mill Kart Club - Round 4 Preview
Round three of the FastR Whilton Mill Kart Club took place at the later end of March on the one day we haven't had bright sunshine for a while. This meant that, whilst tyre wear was less of an issue, building tyre temperature was still important. We get enough tyre talk around the motorsport industry though so let's crack on with looking back at round three.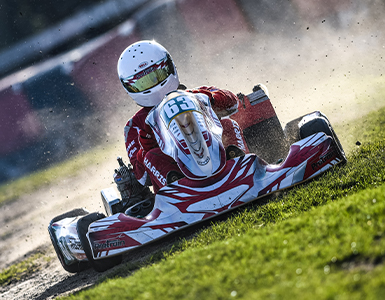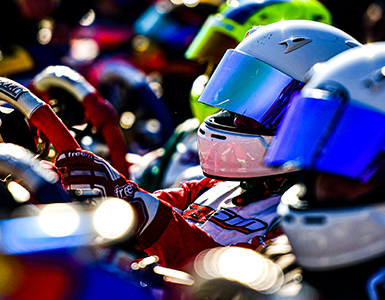 Honda Cadets
Jarrett Clark had only finished outside of the top three twice in any heats or Finals so far in 2022 and he continued that form throughout the heats of round three to claim pole position for the Final; was there any stopping Clark from taking a second win of the season? At first, it did not look like it as team-mates Cole Denholm and Max Endacott tried to work with the points leader to pull away from the chasing Rocco Shenton and Finlay Lines. These five drivers made the race about them right from the start and unless things went wrong, it was obvious a winner would come from this group. With half the race gone, Shenton had dropped Lines slightly and was needing to drive hard to keep within touching distance of the triple kart train in front. This became crucial as with two laps to go, the team mates started to fight. Denholm first made the move at Christmas on Clark and he led on to the final lap. Denholm went defensive into Christmas and Ashby, which allowed the watching Shenton to close in. Slight contact between Clark and Denholm with Endacott having to swerve to the outside left the door open for Shenton to pass all three on the exit of Ashby. Denholm pushed Shenton wide in Chapmans but he was never going to be allowed to keep the victory with his move. A post-race five second penalty was added to Denholm's time which dropped him to fifth behind. This left the non-championship driver of Shenton to claim the win ahead of Endacott and points leader Clark, who is the only driver to appear on every podium this season so far.
One to watch for round four is Max Endacott. Endacott has improved his results as the rounds have progressed and pulled off a great last corner move on Clark to show he is here to close the gap to Clark in front. The first win of the season can not be far away.
Mini Max
In Mini Max, Noah Wolfe was so close to a full score in round two. Well he corrected that in round three with not only a full score but also a dominant final to win by over seven seconds. It was a little more difficult for fellow front row driver Harrison Whitticombe. A poor start dropped Whitticombe to sixth but the youngster kept his nerve to move back from to second by lap ten but by then, Wolfe was gone. Aston Sharp made his debut in the series for 2022 and after qualifying ninth, Sharp worked his way through the same pack as Whitticombe to cross the line fourth. This became the third and final step on the podium when Lucas Blantford received two post race time penalties of five seconds each. Zac Green stayed second in the points after finishing fourth whereas Joshua Turnbull and Josh Selvadorai had finals to forget with a retirement and a DNS to damage their points totals.
Whilst the one to watch for round three did not enter the event (This one to watch isn't going too well really!), David Wiszczor has really impressed in round three with his first top ten of the season with eighth in the final. Could it be a top five next time out?
IAME Cadet
With Jacob Ashcroft missing from round three, it was up to the rest of the pack to try and chase down Jesse Phillips, who has shown inspired form throughout the opening stages of the season. The irony for Phillips was the three drivers he had to fight in the final had all missed round two, giving Phillips the advantage of not needing to go all out for the win. This added that it was a Fusion Motorsport dominated race so racing in the same stable always helps or it could be a quiet pack up afterwards. It was Kit Belofsky, who held off the attention of his team mates to take victory ahead of series leader Phillips. Jorge Edgar in the 0 kart claimed the podium position on the final lap from Jenson Graham, helping Fusion Motorsport to take the top seven places.
Blair Smith did not enter round three (Really? Not another one!) so I am going to hedge my bets this time, round four One to watch Skye Parker. Parker missed round two but has looked strong with a seventh in round three.Also look for someone not in a Fusion kart to upset the apple kart…..
Junior Max
While not by as such a dominating margin as Noah Wolfe in the Mini Max class, X30 Junior is fast becoming the Macaulay Bishop show. Bishop led from start to finish to take the victory and extend his championship lead to almost 80 points at this early stage of the season. Second in the points Cian Geraghty started the final running Bishop all the way and looked like a challenger for victory but an issue at Ashby on lap 3 ended any hopes of a good result, forcing Geraghty out of the race. Whilst looking injured via the stream Cian was ok (as confirmed to me in a random iRacing lobby we ended up in days later!). This left the space for Henry Joslyn in the position to work his way through the field from fifth on the grid. Whilst the gap reduced from two seconds to just under a second at the end, Joslyn could do nothing about Bishop. Third place went to Cameron Pratt-Thompson on his seasonal debut at WMKC with a fastest lap to add to his ten positions gained. Micah Taylor came a close fourth (finally a one to watch who did well) ahead of Alfie Garford and the X-Kart machine of Kai Bachini.
The One to watch at round four is Jack Mowat, who has been steadily improving his results so far this year and isn't far off breaking into the top ten.
X30 Senior
After getting the better of title rival Lucas Ellingham last time out, Sam Heading managed to make it two wins in a row with another win from the front row. Ellingham did not make it on to the front row but got through the pack quickly to be on the tail of Heading and as the season has come to predict, the Heading/Ellingham continued with less than a second between them for the rest of the 15 lap race. This one is going to run for the whole season! Bart Harrison got the better of Archie Tillett to claim the final podium spot.
The One to watch curse struck for Brandon Matschull with only a 14th place finish in the final whilst Thomas Fleming, third in the points, could only finish ninth. Round four, watch out for Harvey Riby. That top five effort was only two tenths away at round three.
Senior Max
It took Theo Micouris a heat to really get into the swing of things on his WMKC season debut but as soon as he had, there was no stopping him with two heat wins, pole position and fastest lap in the final and a win by almost four seconds.
Finally, my One to watch for round three actually got the result. Scott Smith jumped up to second in the final but whilst, he couldn't close on the leader, it was enough for Smith to take the championship lead ahead of Harry Gibson, who retired after four laps. Jamie Perilly rounded the podium in third ahead of Rory Burke. This Senior Max class is possibly the most competitive and unpredictable in the club. The perfect example of this is Samuel Cooke, one to watch in round four as his personal best is currently a ninth.
You can catch all the action on the Alpha Live's Youtube channel from 9:35am on Sunday WATCH HERE
*Disclaimer on ones to watch - Forgot about British Champs starting this weekend and with many names on their entry list, I'm going to be wrong with a number of them.